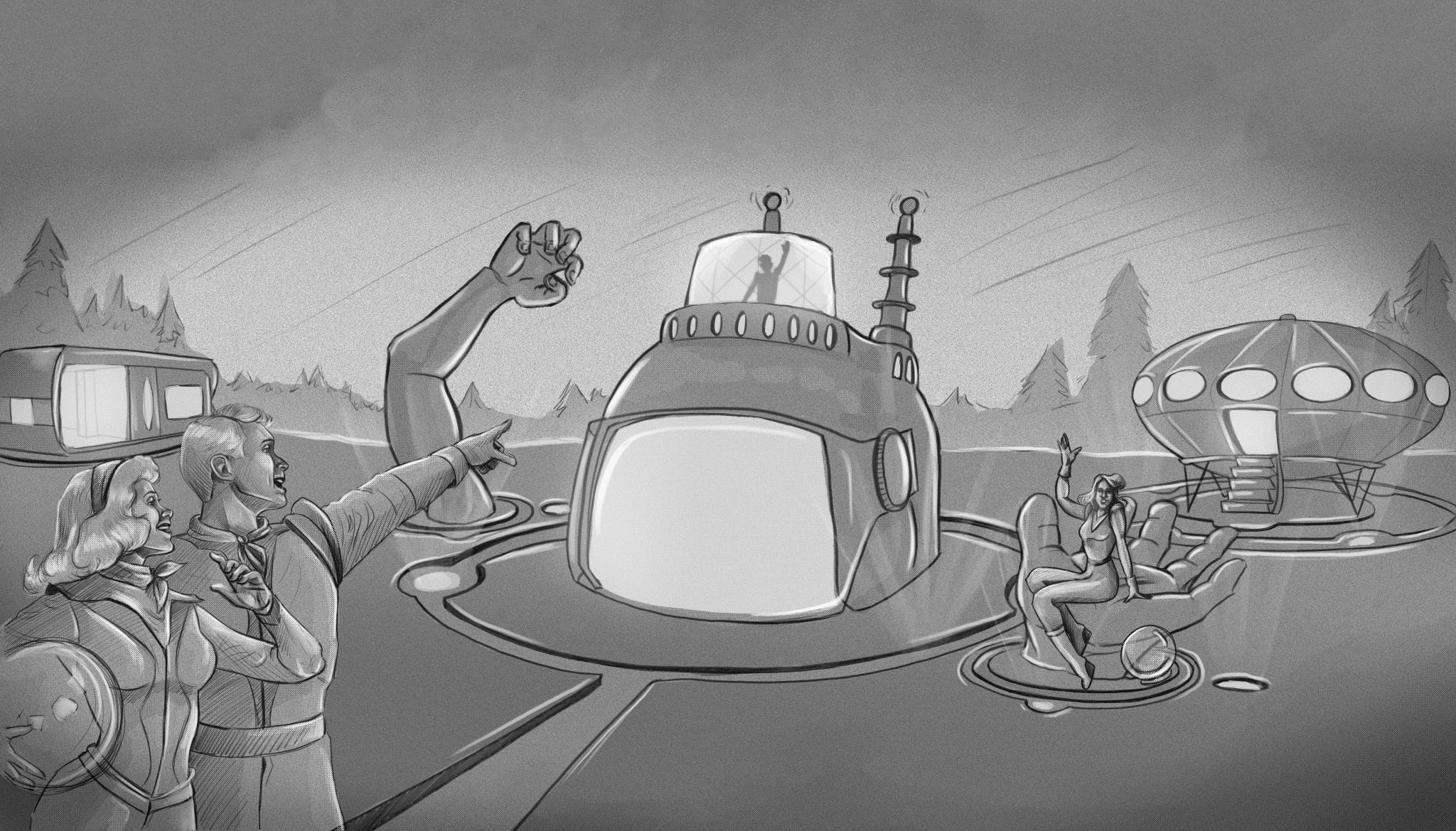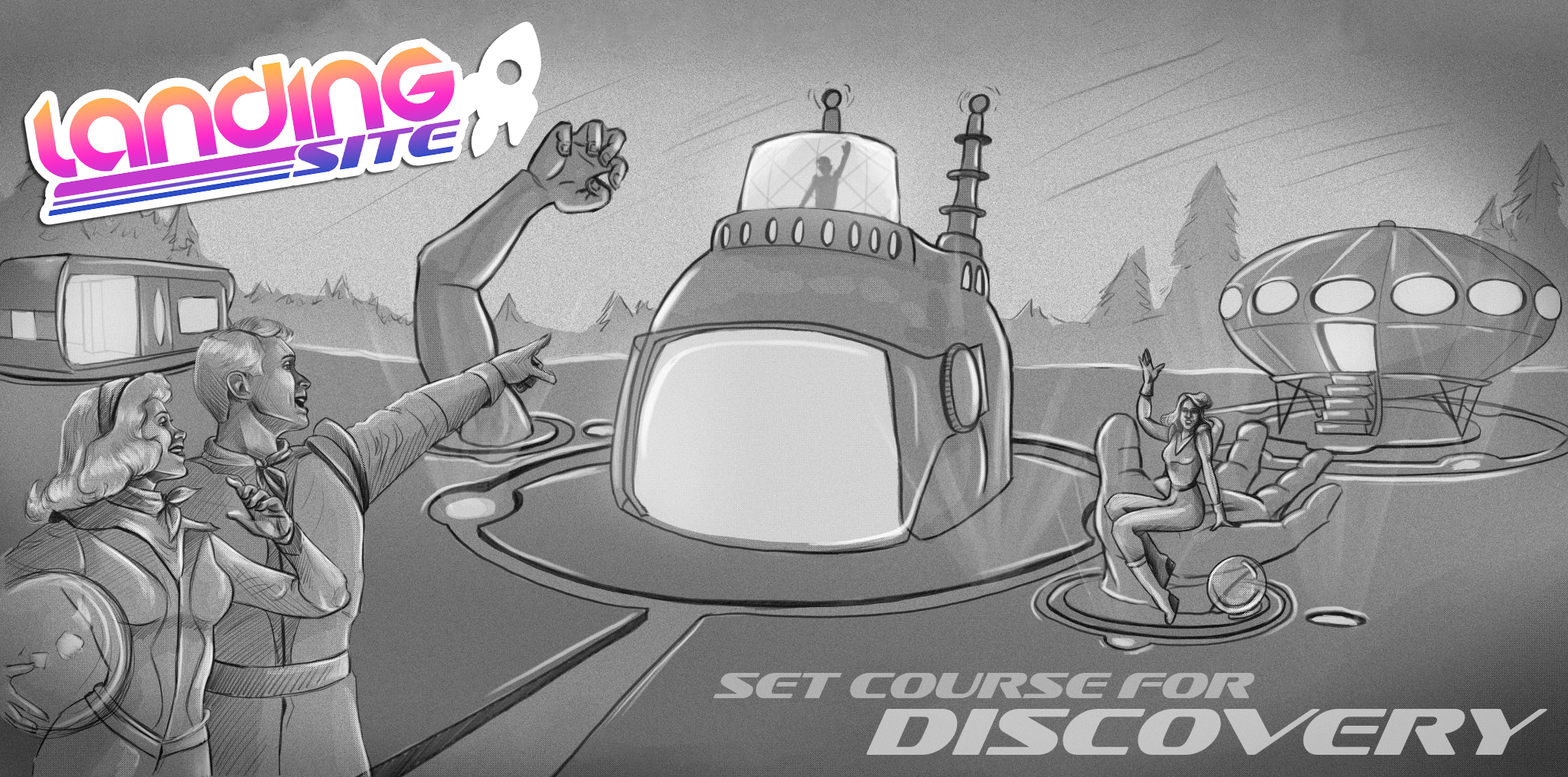 Imagine it. You've been traveling the far reaches of the galaxy on a generational ship, when suddenly, your trust computer alerts you to a bizarre reading on a distant planet. You set the engines to warp factor 9 to investigate & soon discover, a gargantuan alien adventurer of old, trapped in soil, frozen just at the moment it struggled to break free! Who was this ancient behemoth? What was he hoping to find?
What secrets will you discover?
Compelled onward by a spirit of adventure, you land your ship, detach several exploratory pods to house your team of explorers, and establish a Landing Site around your curious find! You soon discover… there are clues everywhere you look! Codes to decipher! Secret compartments! Untold treasures to uncover! 
Welcome to The Landing Site, an epic AirBnB adventure unlike any other! Complete with a compelling narrative, customizable built-in activities tailored to any and every age, and something new to discover each time you blast off to this one-of-a-kind destination.
Designed by an experienced team of storytellers, artists, entrepreneurs, marketers, media professionals, real estate investors, and childhood development specialists, you're in for a truly out of this world experience!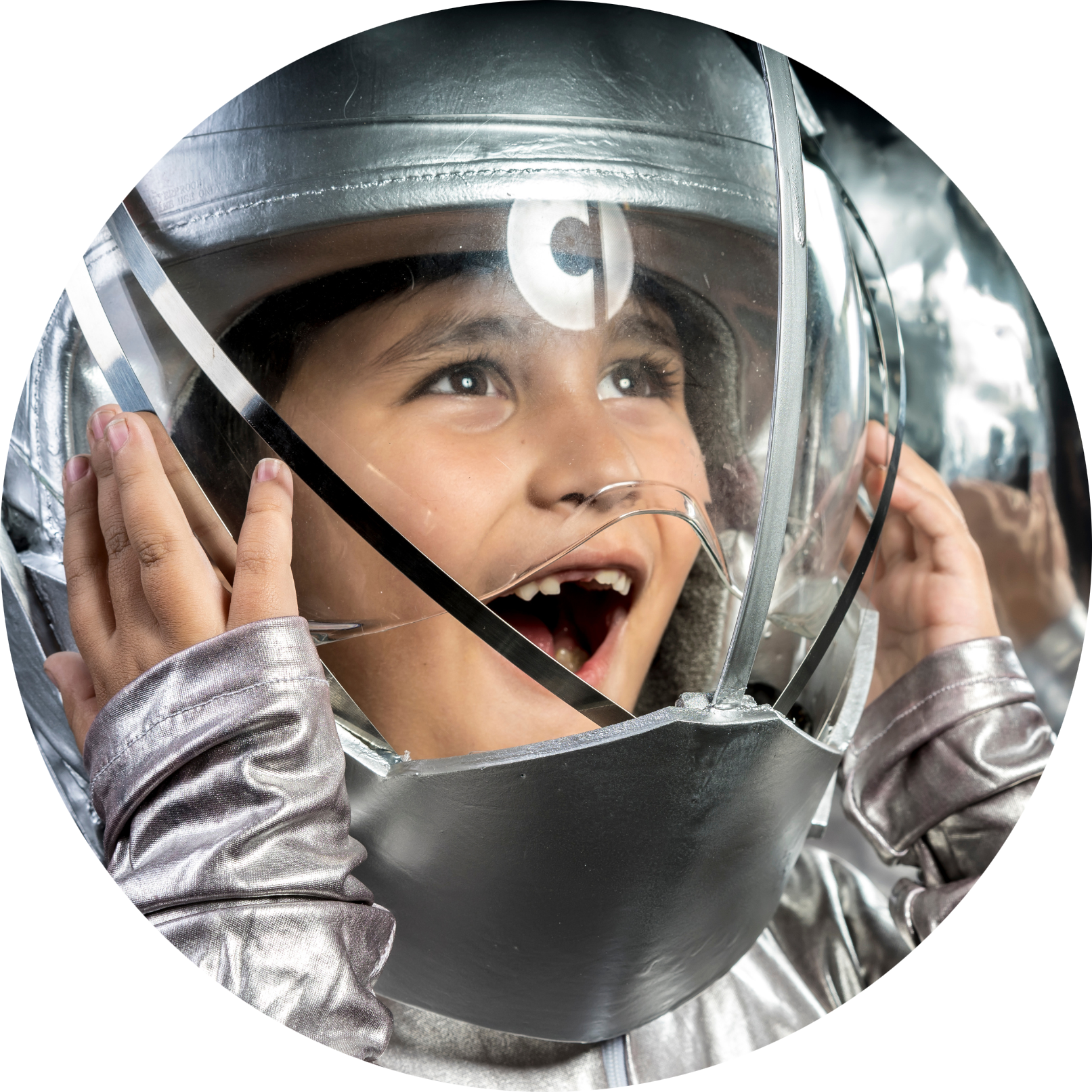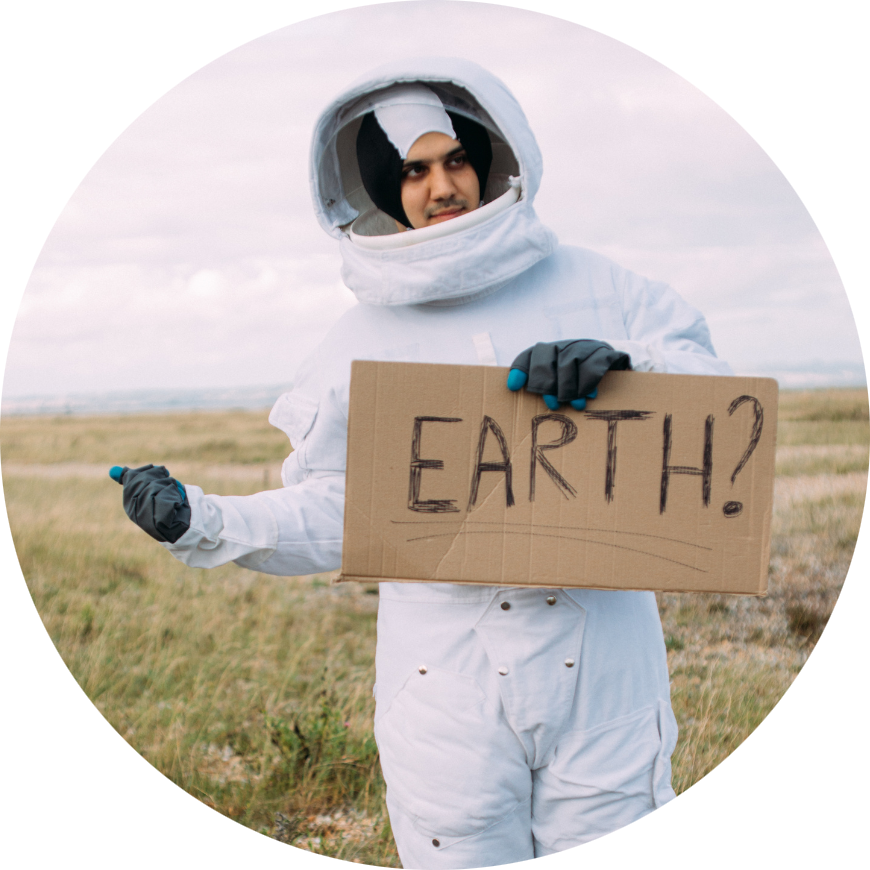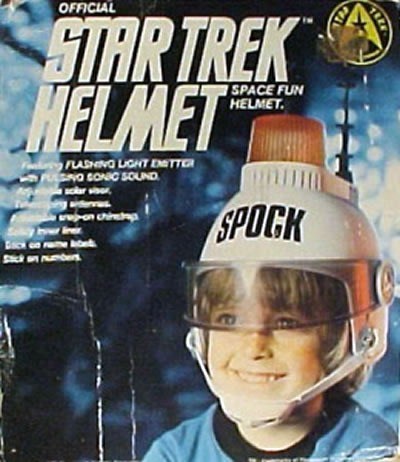 Galaxies Full Of
Inspiration
Every inch of the Landing Site is steeped in science fiction history. We're so nerdy about sci-fi that literally, one of our founders has a dog named after an obscure Star Trek reference. We couldn't help ourselves when we had the idea to design the centerpiece of our rental around one of the most iconic pieces of sci-fi merchandising history: the infamous Spock Helmet. Known for being a brazen out-of-left-field cash grab, the Spock Helmet had nothing whatsoever to do with Star Trek, save for the gigantic "SPOCK" blazened across the forehead of a poor unsuspecting 1960's child. It annoyed fans, it annoyed parents, it disappointed children. As diehard Trekkers, we can't help but feel maybe it's time the Spock Helmet elicited delight & amazement instead! We've designed the helmet of our sunken giant astronaut in honor of this legacy, taking some liberties with the design in order to create a reflective picture window, giving the occupants inside both privacy & a beautiful view. We've transformed the siren at the top into an Observation Lounge. Go up the floating steps and find yourself on top of the world, getting a UFO's-eye-view of the sculpture alien arms reaching up out of the planet's surface. It'll be a truly intergalactic experience!
The entire Landing Site property will offer a variety of AirBnB rentals, at different price points, to accommodate a wide audience. While the original Helmet building & accompanying sculptural arms will form the centerpiece of our campus, additional accommodations will be available using a variety of historic & modern pre-fab tiny homes. We plan to incorporate one Futuro Pod, built into the narrative as the central "UFO" upon which our astronaut visitors arrived on this far away planet. The campus will also feature many futuristic Nestron C2X pre-fab tiny homes, playing the part of various "pods" to house the intrepid explorers.
Personalized Details
One of our favorite design features will be the built-in customizable lighting! With the brilliant white Nestrons & a white-clad Futuro Pod, we plan to surround each rental with carefully placed projection LED light features. When a guest makes their reservation, they can specify which color they prefer. We can then program the LED lights to project their chosen color onto their pod, giving each guest a unique & personalized experience. You're not staying in boring old "Suite #3", you can stay in the Purple Pod, Blue Pod, Pink Pod, Chartreuse Pod, or any other color you can imagine! This will make the campus all the more attractive for large gatherings, especially weddings. Imagine being able to color-coordinate the entire venue to your big day's color scheme!
Inclusive & ADA-Accessible
While the Futuro Home is of course iconic, we wanted to ensure that we had fully ADA-accessible rentals available. That led us to the amazing folks at Nestron, who have built fully accessible models that we plan to incorporate and advertise accordingly, to ensure everyone is welcome at the Landing Site & able to enjoy an exciting getaway. Naturally each of these various rentals will be surrounded by exotic & carefully planned landscaping, designed in the style of crop circles, to further enhance the narrative and overall experience. All walkways will be wheelchair and mobility-device friendly. As a founding team that includes disabled individuals, this is a specific point of pride for the entire organization.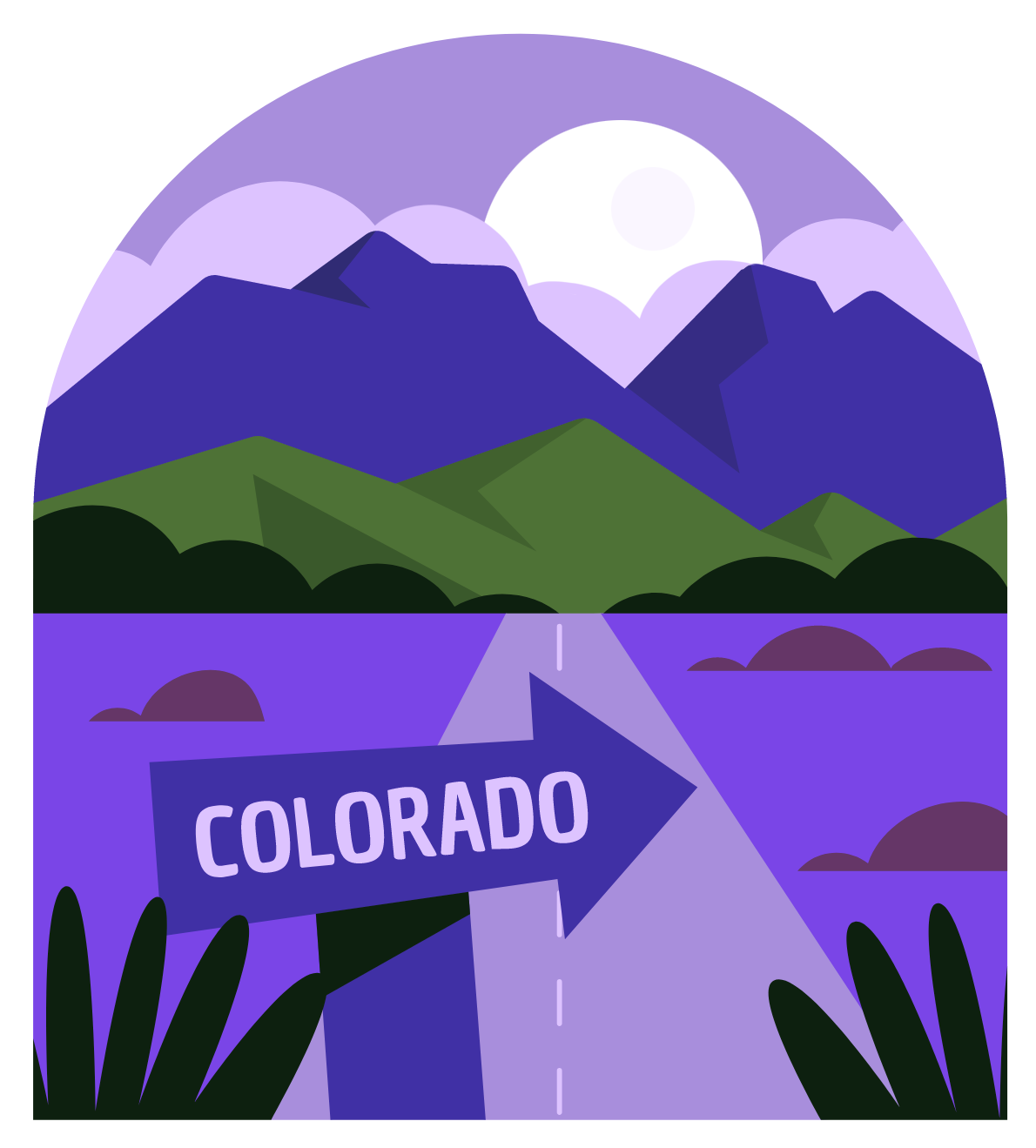 Gain Some Altitude in
Colorado
Blast off for adventure to stunningly beautiful Winter Park, Colorado, the future home of the Landing Site! In addition to all of the adventures in store for you in your boutique AirBnB rental, you'll also find a wealth of year-round fun & exploration in the local area. A bustling ski resort town in the winter, or a nature-lover's paradise in spring, summer, or fall, you're sure to find something to enjoy!
We chose Winter Park as the location because our real estate team is local to Colorado and has a great deal of expertise in the area. We know we'll be primed for success, creating an innovative AirBnB rental in a popular destination with a wide variety of year-round activities, attractions, and experiences to offer visitors of all ages.
So Much More To
Explore
This is truly just a small taste of everything we have in store for you at the Landing Site! Here are a few last quick dehydrated space snacks of information to whet your appetite and get you excited to coming explore with us!
The sculpture arms of the alient giant are inspired by 'The Awakening', a sculpture in Washington, DC by famed artist J. Seward Johnson, Jr. Our Chief Design Officer is from the DC area & spent many happy hours as a child climbing all over art! She's excited to pay that forward in a new way.
We have countless activities designed to be incorporated into the rental experience. Imagine if the art on your walls wasn't just art, but a clue to specific locations all around the campus, where you can discover secret codes to unlock hidden chambers in your pod! Each pod has a different adventure, all of which can be tailored to the age of the occupants, whether a kid or just a kid-at-heart. Imagine keeping the kids entertained, or even better, incorporating a unique proposal into an outerspace scavenger hunt adventure! The options are endless as the galaxy itself.
Did we mention we're sci-fi nerds? You can bet there will be plenty of easter eggs for in-the-know fans. How many times will you be able to find the number 42? Somewhere on the campus we've hidden Spock; go search for him & win a prize! The pods will be decorated with prints from vintage pulp magazines & classics like 'Valerian et Laureline'. Cuddle up with a cat named Spot & be so happy, you forget how to use contractions! Fans of all ages will be sure to find something that makes them smile & go, "Hey! I got that reference!"
Our team has extensive experience with social media, having managed multiple successful viral accounts. You can bet every inch of the Landing Site will be TikTok & Instagram ready!