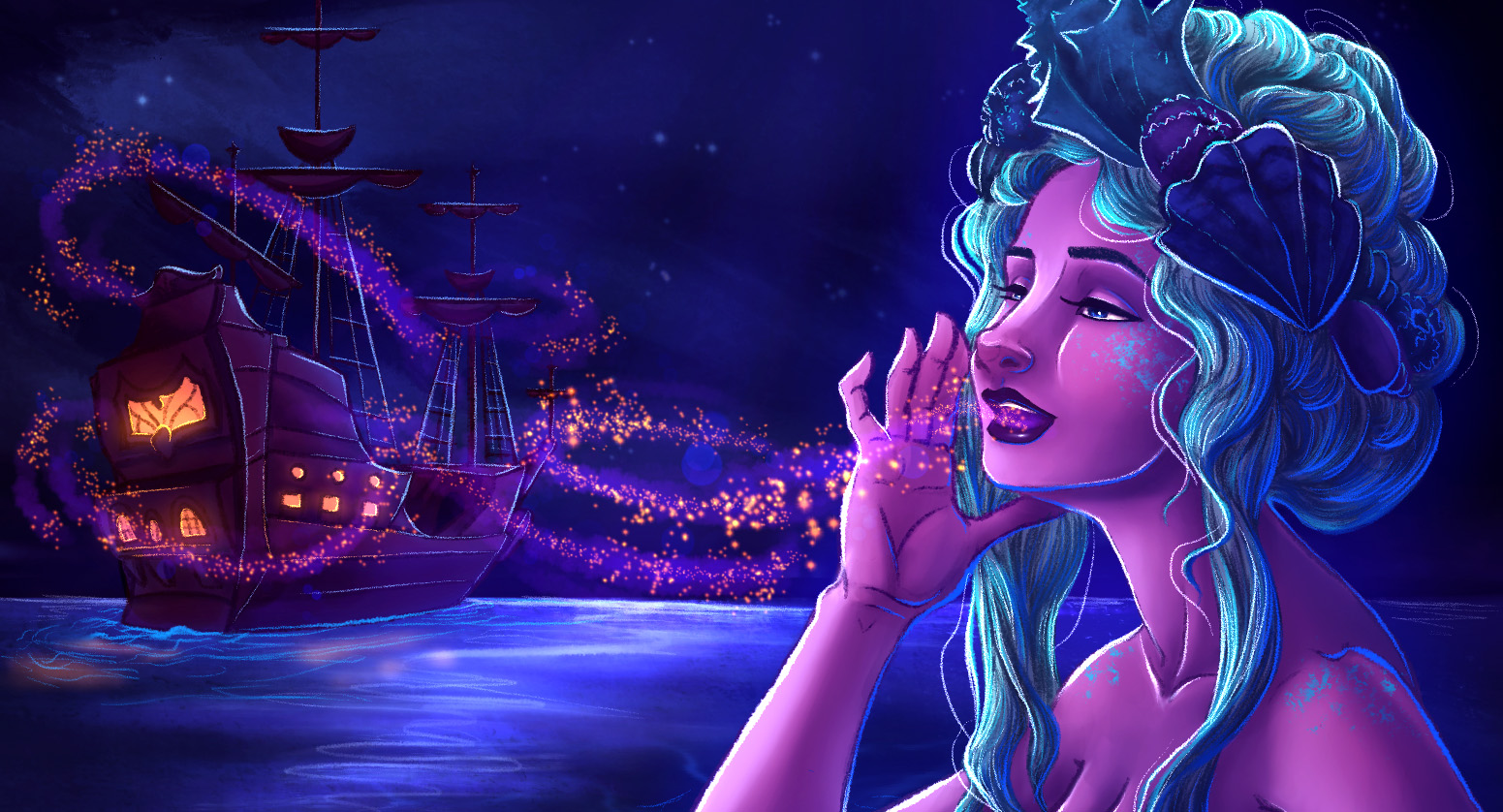 Sarah Black
Illustrator & Chief of Staff
Sarah Black
Illustrator & Chief of Staff
Sarah Black
Illustrator & Chief of Staff
Perfectly Pitched is thrilled to welcome our first team member, Sarah Black! As our Chief of Staff, Sarah's organizational skills and keen eye for detail will help us coordinate clients, manage office operations, and generally serve as our Founder's right hand. In addition to these invaluable services, our clients will greatly benefit from Sarah's immense talents as an artist, illustrator, and animator. If you're looking to graduate beyond the realm of stock imagery, you can count on Sarah to take your company's design assets to the next level.
Who am I?
Sarah is a visual development artist and animator from California. A graduate from Cal State Long Beach's BFA Animation Program, Sarah enjoys creating art using a variety of mediums with a painterly approach. Adept at using watercolor and oil paints, the transfer to digital painting has become her passion. By using her skills, passion, and talents in animation, illustration, figure drawing, and landscapes, Sarah hopes to bring smiles to people's faces by creating unique moments of joy on film, paper, and canvas.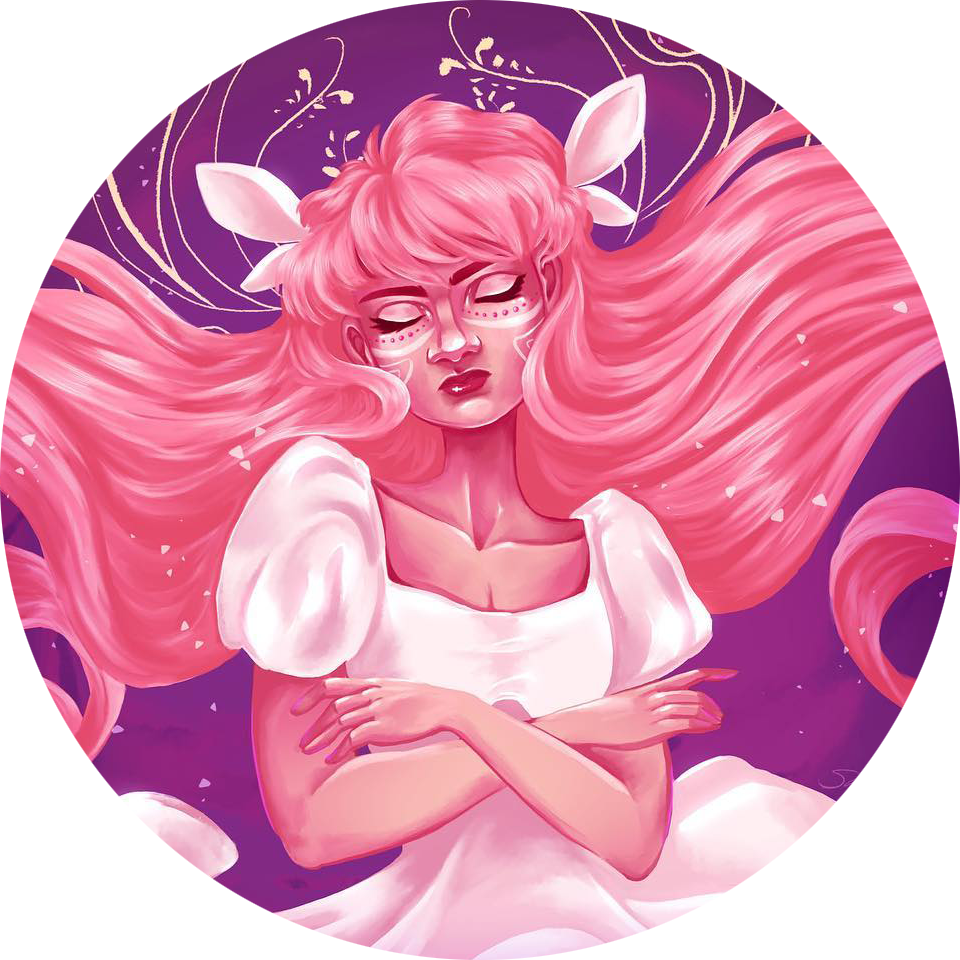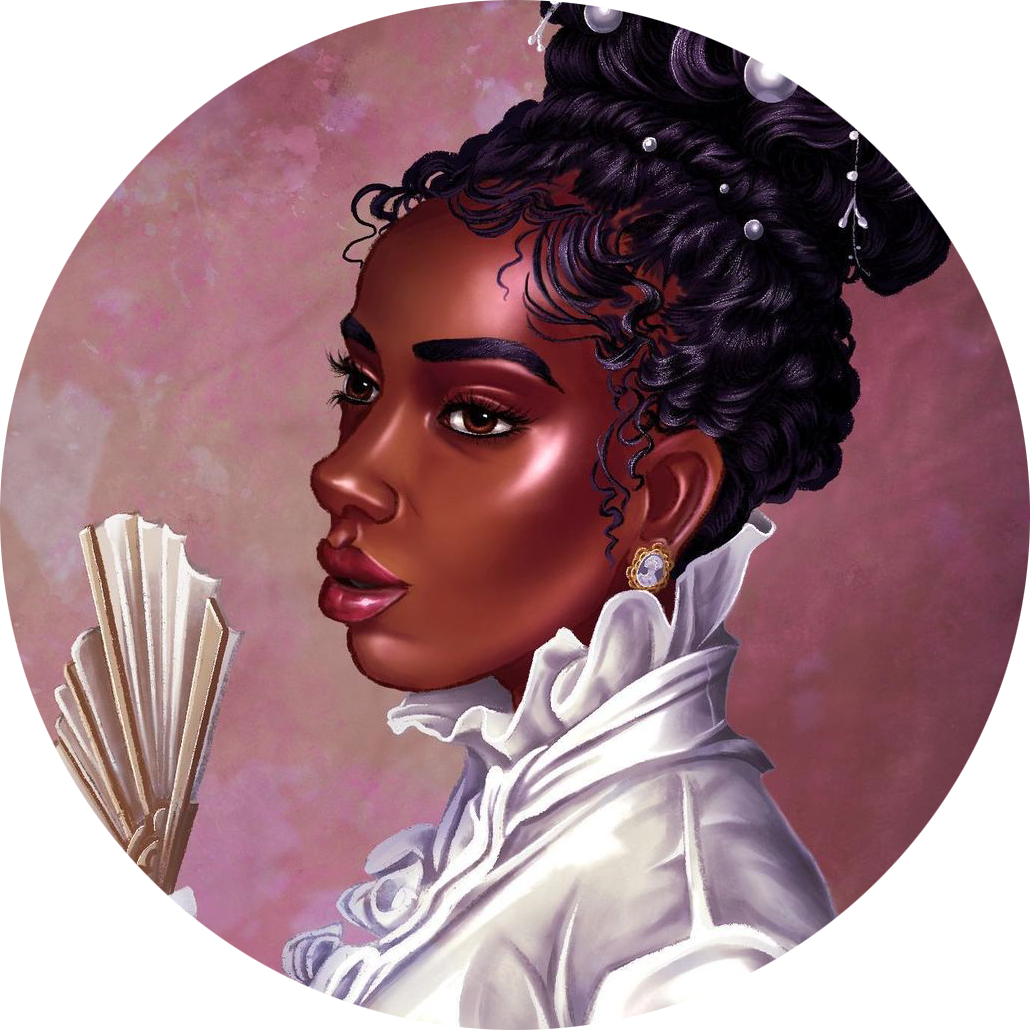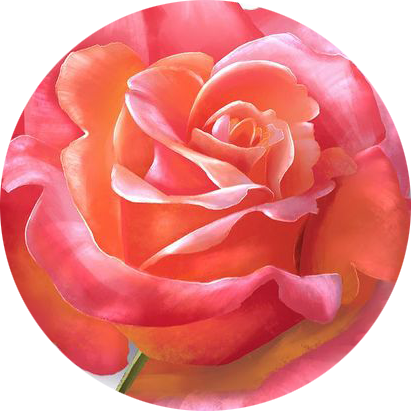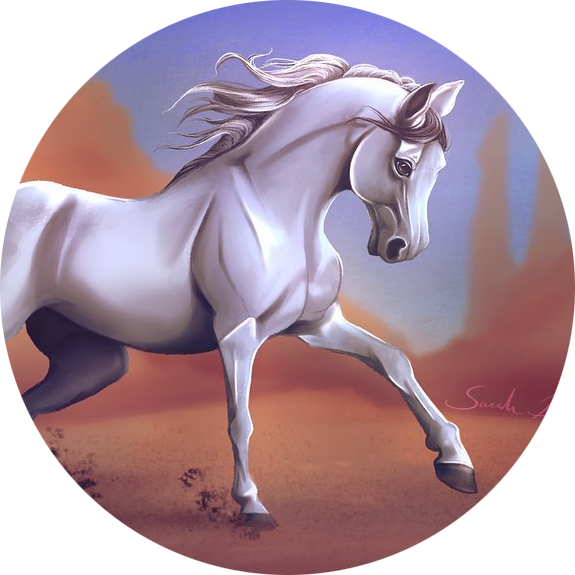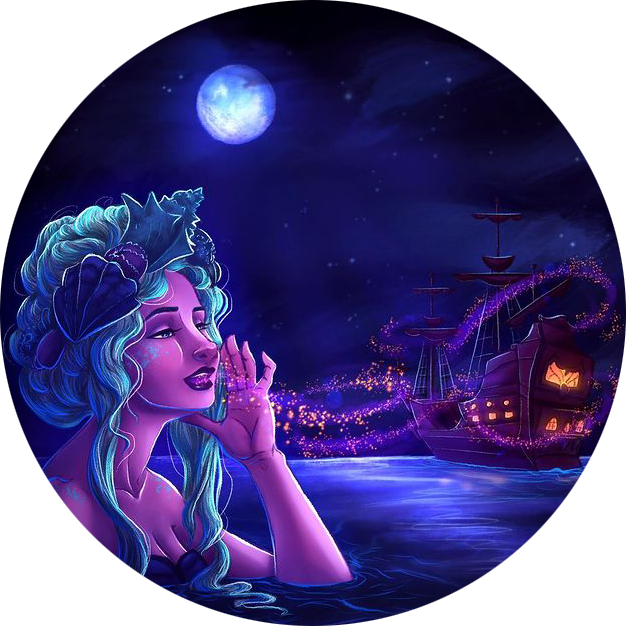 A Selection of Sarah's Work With
Perfectly Pitched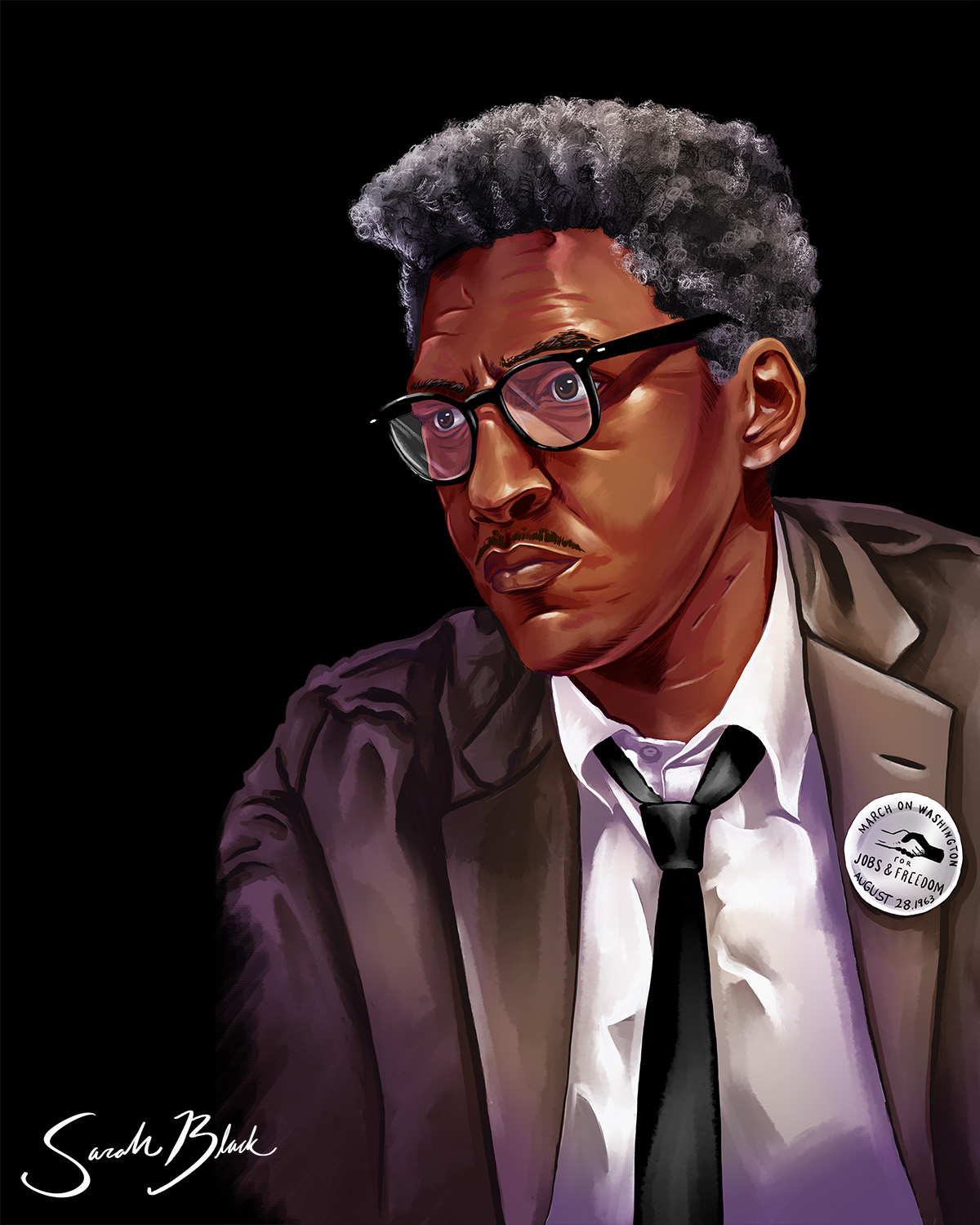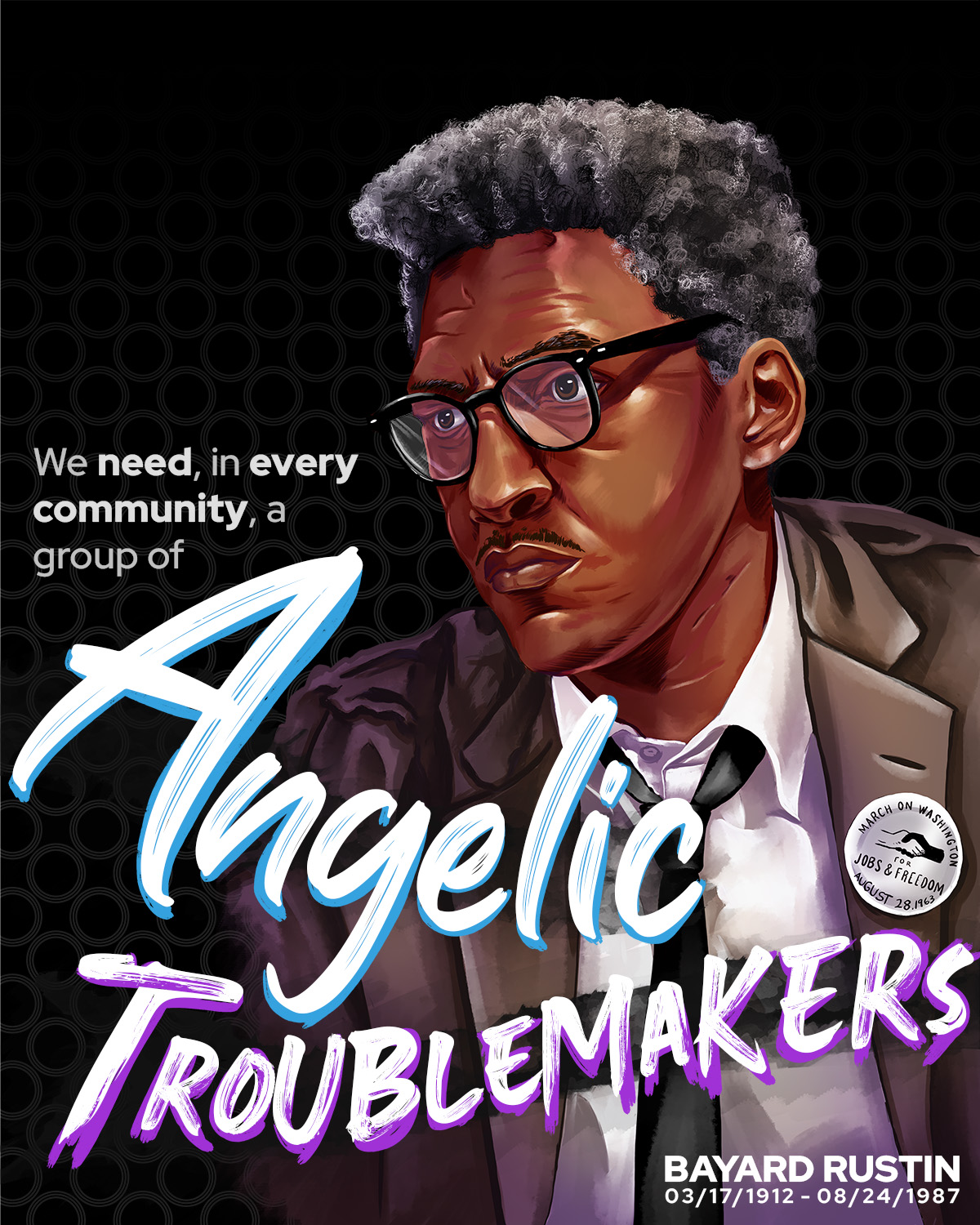 A Portrait of Civil Rights & LGBTQIA+ Icon
Bayard Rustin
Color Rendering by Sarah Black
• Line Art & Typography by Heather Lawver
This piece was originally created for our clients at Deviant Events, an organization dedicated to supporting the BIPOC LGBTQ+ community. As part of their social media campaign, they commissioned us to create portraits of various queer people of color – both throughout history and today – who have had a profound impact on the community. Designed to be released on the subject's birthday, the first piece we created honored the great Bayard Rustin. 
We were especially pleased & honored to receive support from the Bayard Rustin Center for Social Justice, who provided a great deal of information, inspiration, and support. We're excited to continue working with them in the future and plan to create a physical portrait to support their efforts in the near future.
This piece was a true Perfectly Pitched collaborative effort, beginning with line art by Heather. Sarah really took it and ran with it, though! She transformed it into something truly extraordinary. Deviant's founders told us their initial reaction upon seeing it for the first time was nothing but "screaming" and "a few tears". We'd say that's a job well done!
We highly recommend visiting the Bayard Rustin Center for Social Justice. They're doing vitallly important work for the young LGBTQ+ members of their community. If you're like to learn more about Mr. Rustin, we deeply enjoyed 'Troublemaker for Justice', a biography written by Bayard's longtime partner, Walter Neagle. Your purchase at the link above will benefit the Rustin Center!
Our deepest gratitude to Deviant Events & the Rustin Center for their support!
'The Meat of the Werewolf'
Book Cover
Original Art by Sarah Black
Concept & Typography by Heather Lawver
Our Founder, Heather Lawver, has an older brother named Tim who's a quite prolific, adventurous, and entertaining writer. He requested our help with designing a standout cover for his latest book, 'The Meat of the Werewolf'. He wanted something that had the feel of an old retro horror movie poster, a la Frankenstein or Creature from the Black Lagoon.
Throughout the novel, the symbolism of the yin & yang feature quire prominently. We used that motif in a fluid, subtle fashion, to showcase the main character's monthly transformation.
If you're interested, you can check out Meat of the Wereworlf on Amazon. It's $9.99 for papeback, or you can get the Kindle ebook for free with Kindle Unlimited!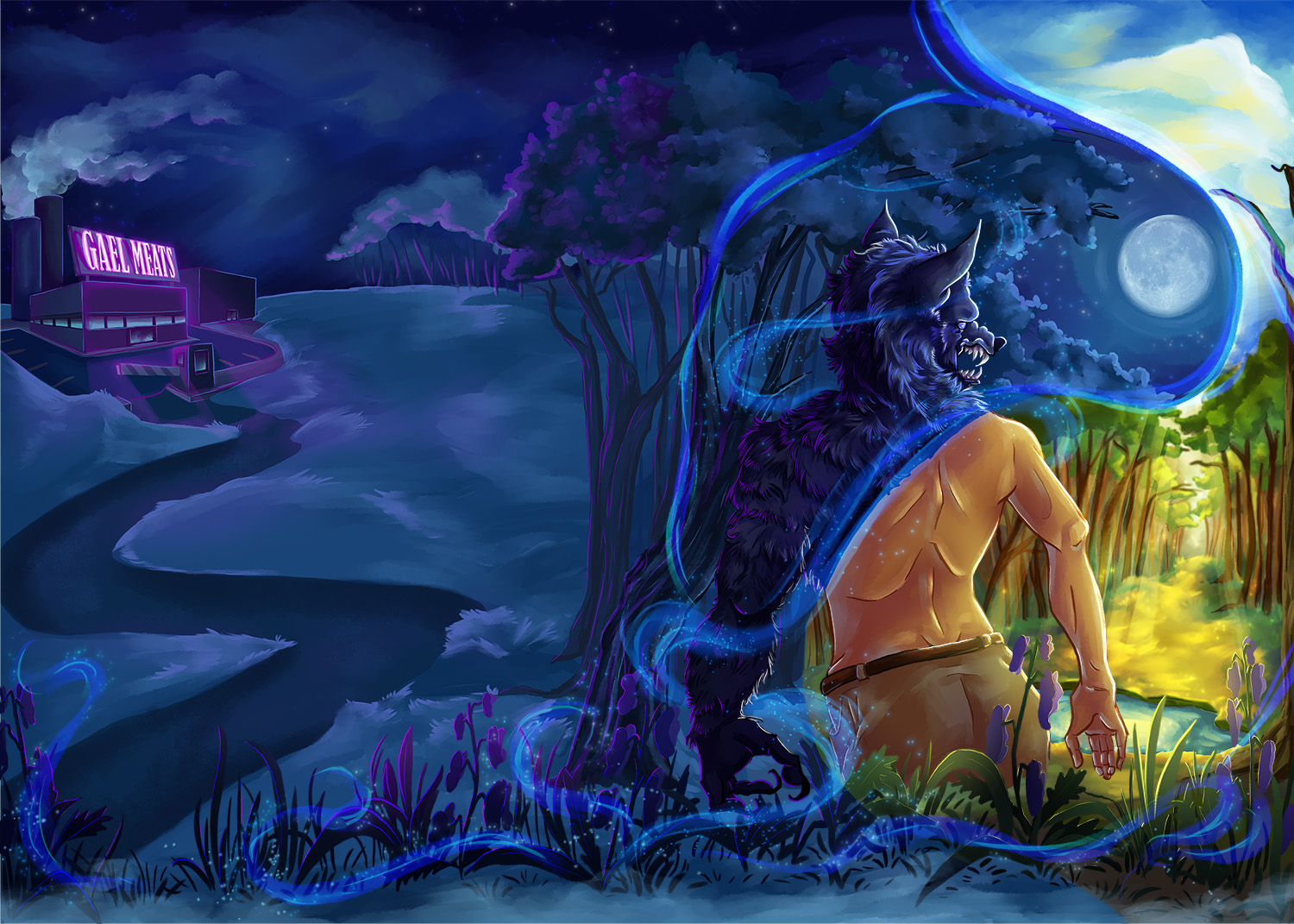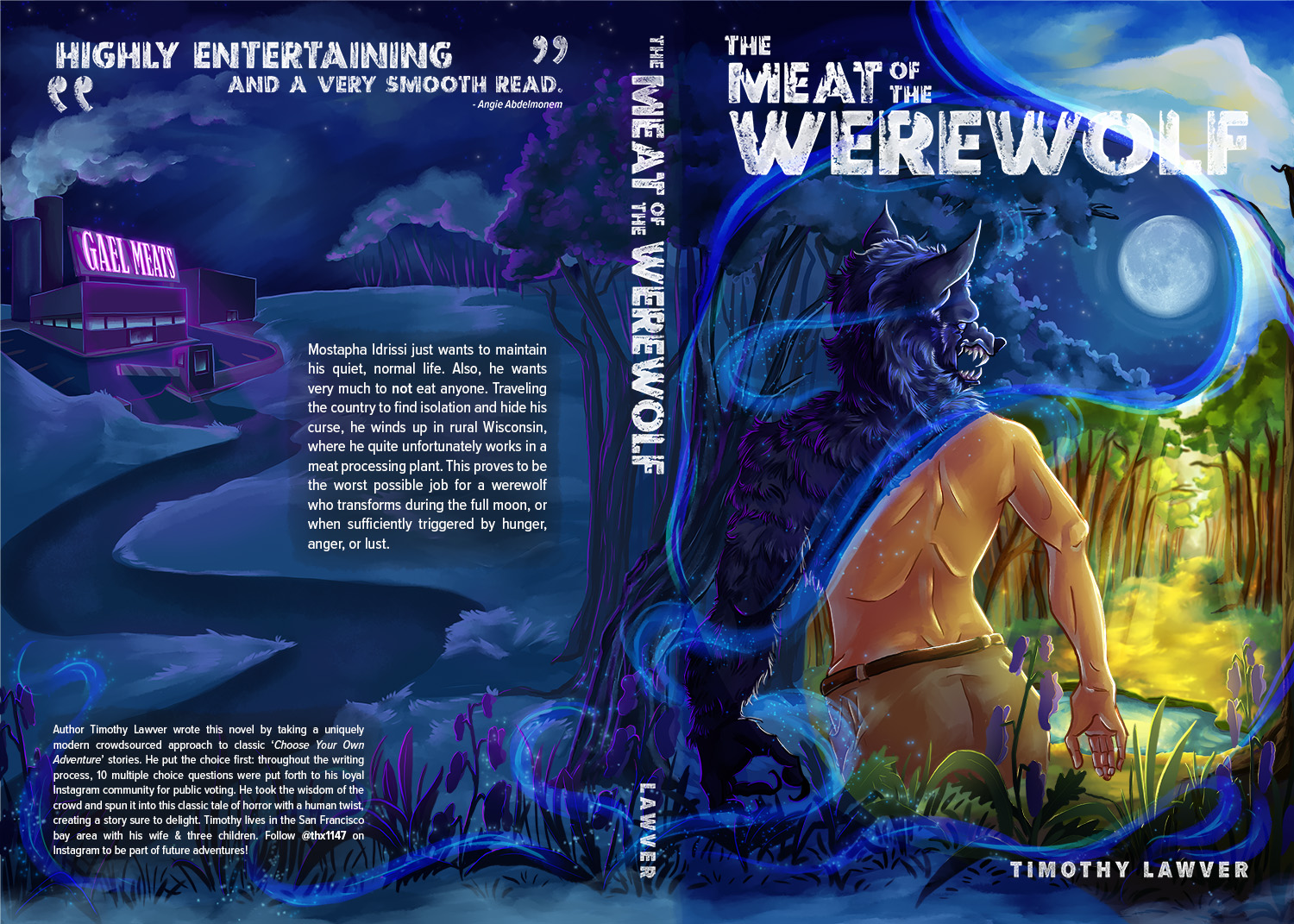 If you're looking for original art to level up your brand, pitch deck, or book,
Sarah's got your back.