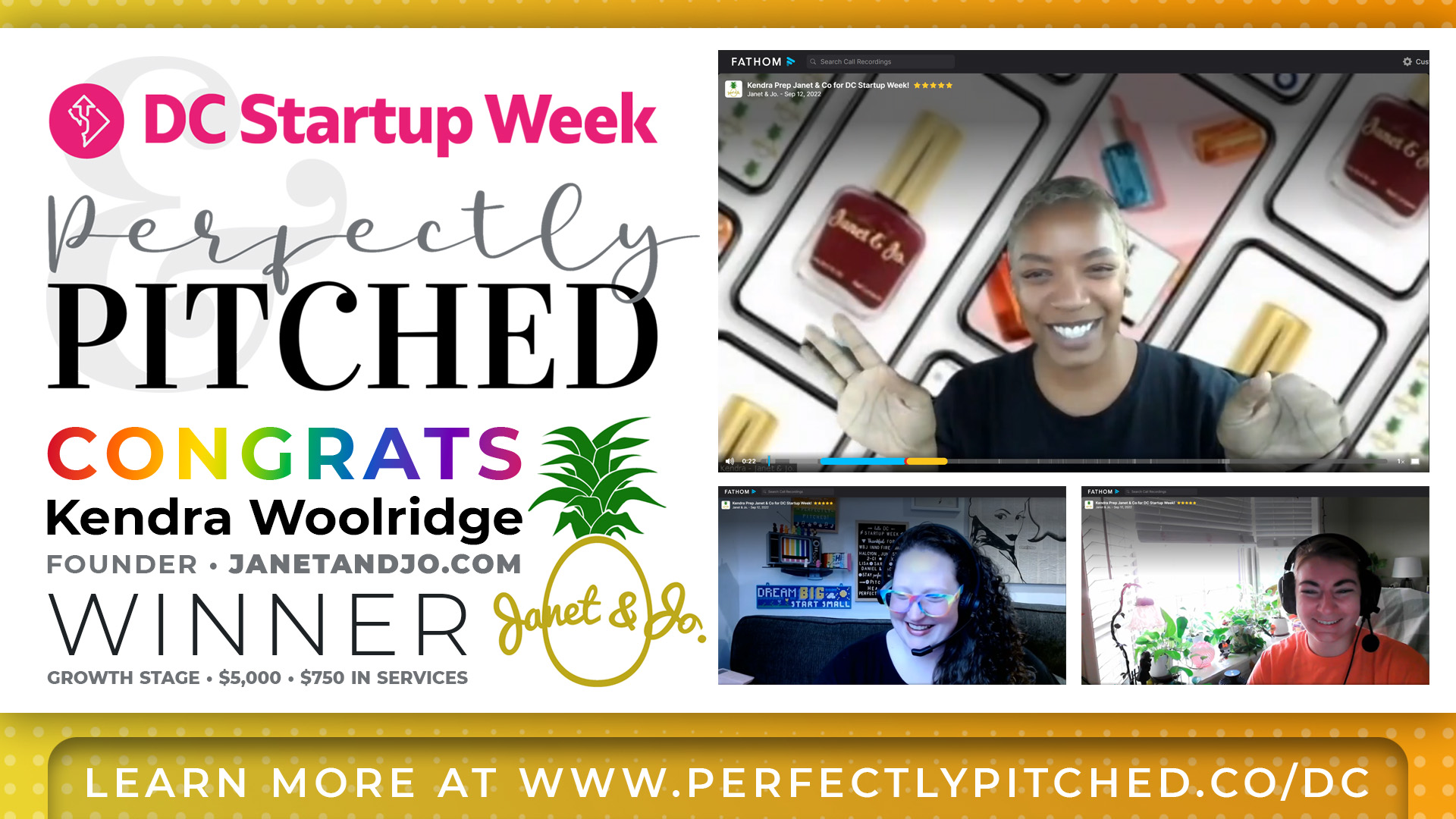 As a proud sponsor of DC Startup Week, we were thrilled to offer each contestant in their Grand Finale Pitch Competition a free 30-minute one-on-one coaching session to perfect their pitch! We worked with 8 out of the 10 participants over the past two weeks and it was such fun! Each & every founder showed significant improvement & should be so proud of how much they grew & how well they performed.
In addition to the coaching sessions, we also contributed $1,500 in free services to the prize packages, with the winners of the Early Stage & Growth Stage competitions each taking home $750 to further polish their pitch decks & marketing. I'm sure the winners will also join me in thanking the fabulous panel of judges – led by Steve Case of Revolution & Melissa Bradley of fellow Fire Award honoree 1863 Ventures – for generously doubling the original cash prizes for both winners! The judges truly had a difficult job; we didn't envy them having to make such a tough decision!
Congrats to Kendra Woolridge!
Winner
• Growth Stage • Founder of JanetAndJo.com
We want to send big heartfelt congratulations to Kendra Woolridge, founder of Janet & Jo, for taking home the Growth Stage prize of $5,000! Kendra was an absolute joy to work with & made such impressive strides, improving her deck & truly commanding that stage like a star! She knocked the judges' socks off! (Plus, Sarah & I were thrilled with her products – literally the minute our coaching session finished, Sarah texted me, "Wanna have a nail polish shopping party?!" Oh, we did. We most certainly did!) If you're as big of a fan of epically ethical, carcinogen-free, bright & happy nail polish, then you need to go on a nail polish shopping party of your own! Trust us, it's way too much fun & totally worth the splurge! Click the button to head over to JanetAndJo.com and check out all of their vibrant colors. (I highly recommend Alma Mater. Sarah's a big fan of Bittersweet!)
Congrats, Kendra! We can't wait to chat with you soon & continue working with you!
Congrats to Kay Rodriguez!
Winner
• Early Stage • Founder of Urban Outdoors
Extra congratulations to Kay Rodriguez, who took home the Early Stage prize for her startup, UrbanOutdoors.com! Kay came to us with an impressive command of icon & photo usage to visualize her already impactful pitch and truly astounding pre-product traction. We mostly worked on streamlining her story, which she took on board and very clearly soared with! If you want to make sure you get more time in nature, head over to UrbanOutdoors.com right now to sign up for her newsletter & early beta access. You don't want to miss out!
Fantastic work, Kay! We're so excited to continue supporting you on your journey, ultimately getting more people to enjoy the great (urban) outdoors!
Congratulations again, ladies! Team Perfectly Pitched can't wait to continue working with each of you!
We want to make sure to give a special shout out to all of the amazing entrepreneurs who competed in the DC Startup Week Pitch Competition. You all performed so spectacularly, each of you truly invested the time & energy to improve your pitches & excel in the competition. Both Sarah & I are so proud of everything you accomplished in such a short period of time! To that end, we want to make sure everyone can reach out and give you some love, so here are links to all of the fabulous founders!
Although we didn't get a chance to work with Anvar Brooks from Postbys.com, or our friend & fellow Halcyon alumni Danya Sherman from KnoNap.com, we'd still be more than happy to offer them a 30-minute session if they'd like one! They're both working on such fabulous ventures & want to make sure they get all the support they can.
Please check out each & every one of these wonderful startups, led by inspiring founders, and find a way to offer them some support. They deserve it!
Last, but not least, our deepest gratitude to everyone on Team DC Startup Week for all of your immense hard work to put on such a spectacular free event for the DC startup community! Thank you for allowing us to be part of the experience this year. Just last year, I remember watching a panel all about pitching, cheering on another Halcyon friend & alum, while thinking to myself, "By this time next year, I want Perfectly Pitched to be up on that panel!" Not only did we accomplish that goal, but we outdid it! We not only taught a keynote class, but we became a partner in the pitch competition, contributed to the swag bags, and even got to be a sponsor! I don't know how we'll outdo that next year, but we can't wait for DCSW 2023! (Hopefully for that one, we can finally join ya'll in person!)
Congratulations again to the winners & every single competitor! Way to make DC proud!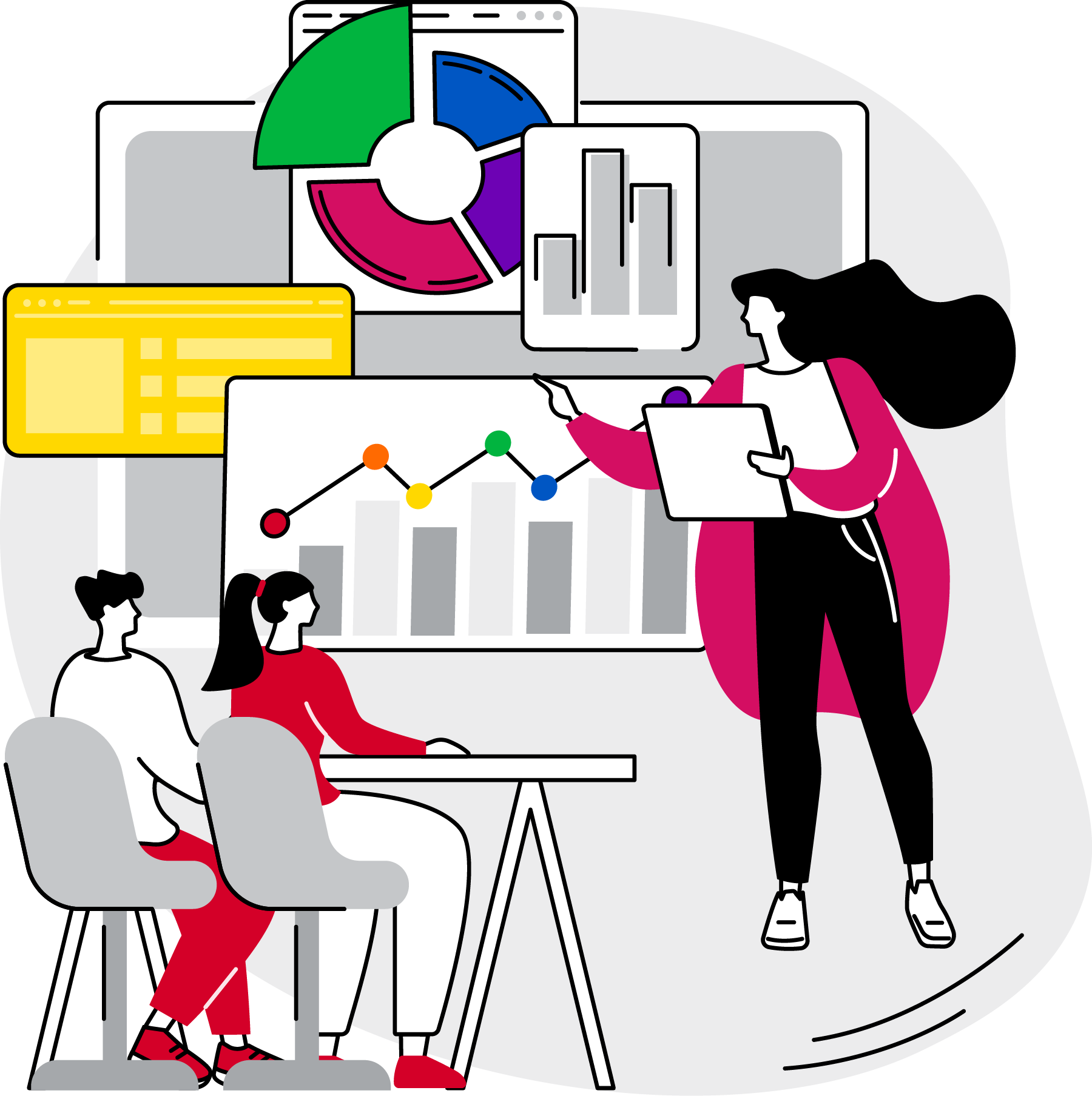 Want Quick Pitch Deck Help?
Level up your pitch with clear, concise, actionable advice.
Are you looking to prep for a big pitch opportunity, competition, or accelerator application? Do you want the exact same kind of 30-minute one-on-one session that these DC Startup Week founders found so valuable? Then good news for you, because we've decided to start offering these sessions to the public! For only $150, these quick sessions are a great way to get some truly impactful insights at a competitive, cost-effective price. (It's also a great way to dip your toe in & see what makes our pitching methodologies so effective!)
How does it work? We'll meet on Zoom, you'll pitch, and we'll give you a laundry list of actionable advice to level up your pitching & presenting skills. At the end of the meeting, we'll send you a recording & transcript, so you can refer back to it as you implement all sorts of new ideas from one of the best pitch deck specialists in the business. Click the button to sign up & schedule your session today!