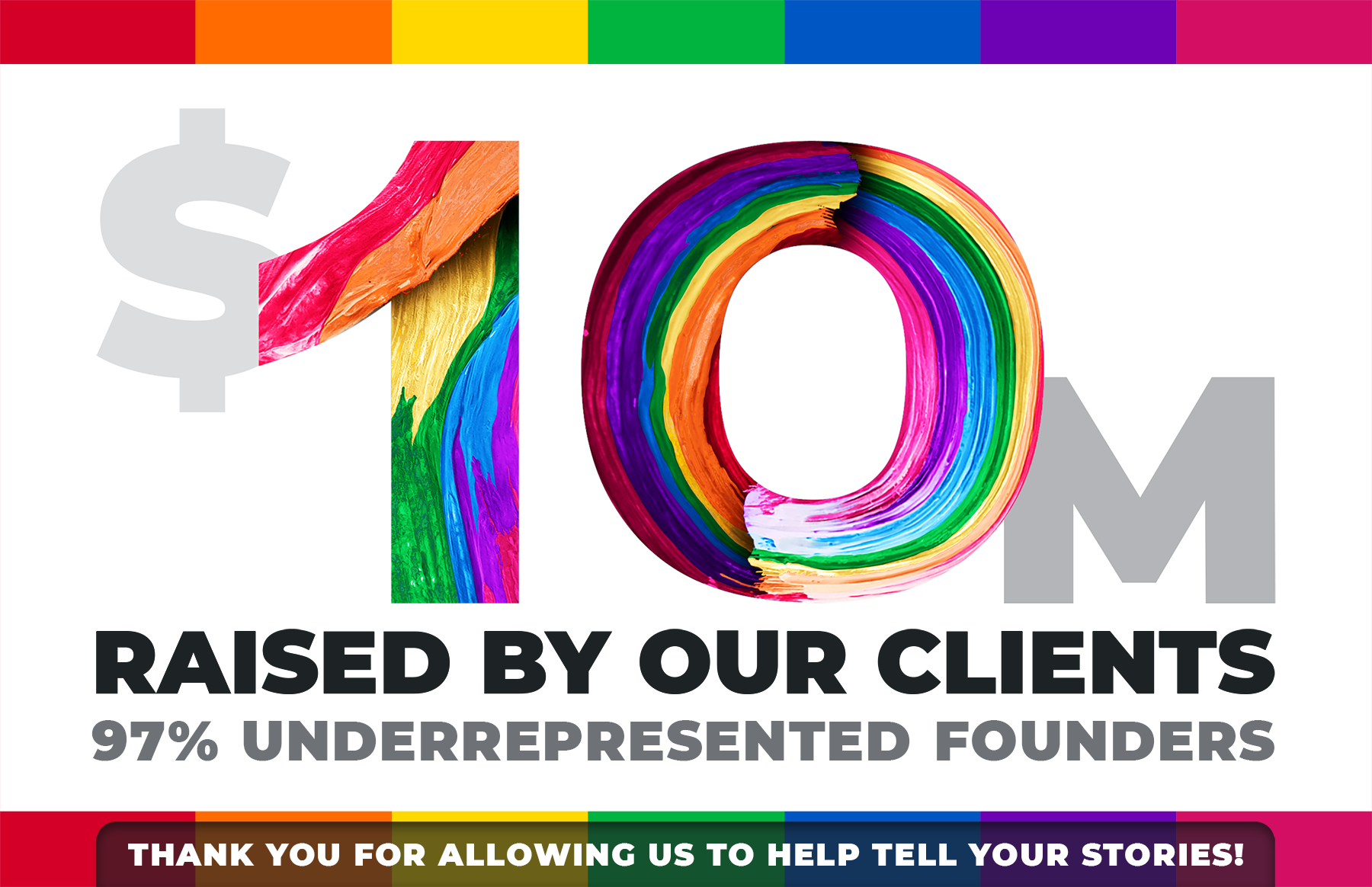 I am exceptionally honored, proud, and excited to announce that we just got the best possible news in the midst of my (ongoing) vacation. Yesterday, one of our dear friends & business advisors just used one of our pitch decks to secure an exceptionally large investment round, including acceptance into a prestigious incubator. I was so excited for her & what that means for her company that it didn't even hit me until today what that means for us here at Perfectly Pitched!
With that investment round closed, Perfectly Pitched has officially surpassed a major milestone. Perfectly Pitched pitch decks have raised over $10 million dollars for our clients, 97% of whom are underrepresented founders!
What's more, those founders are from every single major underrepresented segment, including women, BIPOC, LGBTQ+, disabled, and neurodiverse founders.
This is also perfect timing, because Perfectly Pitched is about to embark on a major pivot. We've been operating as a consultancy specifically to prove a single concept: we wanted to prove that our unique pitch deck frameworks are powerful enough to overcome bias. That no matter who was pitching — no matter their background, their industry, their disability, or their circumstance — that their story could be so compelling it could unlock the future of their own success.
I've long believed that stories have the power to change hearts & minds. Now we've proven they also have the power to open up wallets that previously had been closed to them. 
We've officially proven that 10 million times over.
Why was this phase our proof of concept round? Surely we could just keep going as a consultancy, growing over time, helping clients along the way at a steady clip. But we want so much more than that. There are too many underrepresented founders out there, and as a consultancy, we can only help so many.
Which is why big things are coming soon. Keep an eye on this space, because we aim to change venture capital funding for good.
As for me, I'm headed back to enjoy the rest of my vacation! But not before I say an extra big thank you to all of our clients, partners, friends, family, supporters, and well, just everyone! We especially want to thank Dr. Sachiko Kuno, Kate Goodall, Margaret Goff, Dahna Goldstein, and everyone in our Halcyon Incubator family. This company simply would not exist today without you.
Thank you for changing my life.
And to all of our clients who make up those $10 million, CONGRATULATIONS! From the bottom of our hearts, thank you for allowing us to help tell your stories! As founders ourselves, we recognize the great leap of faith it takes to hand your story over to someone else. Thank you for placing your trust in Perfectly Pitched!
To all of our other clients, your day is coming too! Just make sure you keep us informed so we can add you to the tally & celebrate your success right alongside you! And of course, if you ever need anything, we're always here to help.
Are you a founder looking to perfect your pitch? Send me a message & hop on my calendar soon! Because soon enough — god willing — we may just be busy building other things very soon. 😉
Cheers to the next $10 million!